Transitional Program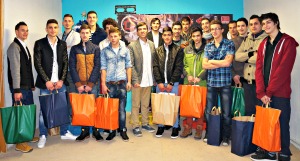 Once children in orphanages reach the age of 18—if they are no longer in school—they must leave the institutions for life on their own. Hearts Across Romania has always had concerns about these children, many of whom are not prepared for independent living and lack the resources or skills to make it in the real world.
Hearts realized a long-time goal of working on a transitional program for children in orphanages when they began a partnership with Florin Catanescu in May 2007. Florin is the director of "A Step to the Future" (UPSV)—a transitional program which includes, among other things, housing for young men. Florin understands firsthand the challenges these young people face because he too grew up in an orphanage and is committed to helping them find their way in life.
Please refer to his website at www.upsv.org for more information on the services provided by USPV including the Social Integration Center.
In 2013, UPSV was successful in acquiring (from the local Brasov authorities) an entire building that will be remodeled into a multipurpose facility.
When complete, this multifunctional facility will provide a clean, safe living environment for the young men that must leave the orphanages. The facility will also be used as a place for those needing emergency housing and will have rooms for international volunteers.
This is a very ambitious project and UPSV needs help to accomplish it. Donations are always welcome, but once the renovations start, traveling to Romania with a volunteer work team will also help speed up the completion of this project.