Change a Child's Life Forever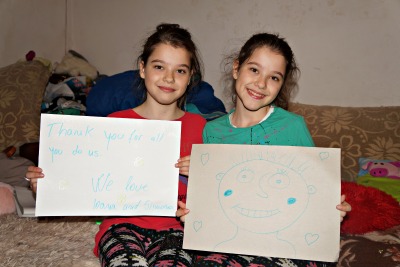 Sponsorship offers a permanent solution, not just a little assistance.
It's hard to change the world, but what if you could make a difference in the life of a single child? Our Sponsor A Child program allows you to do just that.
You can be the sponsor and pen pal to a Romanian child who has never known a parent, a child whose family is struggling to keep the family together, or a teenage orphan who is in much need of medical or dental care.
Through your recurring donation, your sponsored child can receive much-needed assistance. You will receive a photo and a biography of your child, along with updates on their progress.
For $25 per month, less than $1.00 per day, you can change the life of an orphaned, abandoned, or vulnerable child. Hearts Across Romania sponsors children who have lost their parents or are at risk of losing their families due to illness, poverty or other hardships.
Your gifts provide food, shelter, clothing, education, medical and dental care. 
To learn more about each child, visit the "Children" page.  
Complete the sponsorship information for the child or children chosen. 
---
If you prefer to sponsor by check, please send us your name, address, email address, and the name(s) of the child or children you would like to sponsor.
Please make your check payable to Hearts Across Romania and mail to the address below:
Hearts Across Romania
2544 Brookside Dr.
Irving, TX 75063